July 13, 2016
Final touch in the inclined trench

Hosting snow blocks to the surface in the 7 m deep inclined trench.

Yesterday, we measured the distance between the drill floor and the bottom of the inclined trench to be 6.83 m. We reported this to Steff and he asked us to deepen to more than 7.00 m and dig a side hole for a man as well as a vertical shaft in one side for a ventilation tube. We were delighted to get the chance to participate in the impressive inclined trench and used man power to chain snow blocks 7 m up to the
floor of the drill trench.
What have we done today:
Deepened the trench to 7.20 m below the drill floor and made a man hole as well as a shaft
Worked on a new main door in the Dome and an extended middle floor
Resampled snow surface profile in the clean snow area
Sampled the second Japanize snow pit
Placed the power cable for the SW weatherport line
Maintained vehicles, fueling systems and snow blowers
Started grooming the skiway in the evening
Started digging out for new outdoor toilets
Ad. 1: With the theodolite we measured the drill floor at the coming borehole to be 6.53 m below the undisturbed 2015 snow surface. The top of the main deep core will thus be at 13.73 m depth (the bags will start with the last 2 cm from bag 25).
Weather today: Ground fog in the morning lifting at 09:13 local, mostly clear sky and sun the rest of the day. Temperature -15°C last night increasing to -5°C during the afternoon and dropping to -13°C in the evening. Wind 2 kn from W in the morning and evening increasing to 7 kn from W midday.
FL, Dorthe Dahl-Jensen
Iben and Martin cutting the snow blocks in the inclined trench.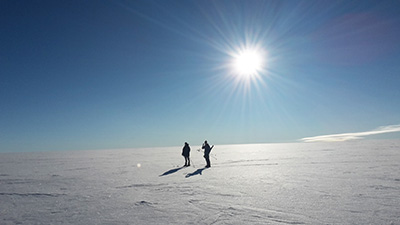 Sun during a evening skiing tour.