July 29, 2016
EGRIP international knitting club
EGRIP international knitting club.

Saturday night is getting closer and strange activities happen. Mari, Emilie and Randi has formed an international knitting club and it is clear the products are related to a secret Saturday stunt. Story will continue tomorrow. In camp the last reamer with a diameter of 251 mm got stuck in a depth of 6 m. Glycol was poured over the reamer and it got loose again.
What we have done today:
Reamed the pilot hole
Resampled snow surface profile in the clean snow area
Reestalished order and documented the carpenters garage
Installation of the permanent GPS station NE of camp
Installed light in the logging cabin
Ad. 1: The EGRIP pilot hole was reamed to the bottom of the hole with the 222 mm reamer and the fourth reamer with a diameter of 251 mm was installed. During the first run the reamer got stuck at a depth of 6 m.
After the second attempt of pouring 20 l of gycol directly on the reamer using a hose and using a hoist enabling an additional pull of 1000 kg the reamer became free and could be pulled to the surface. The 251 mm reamer has a bottom ring to center the reamer and Steff, Trevor and Oliver believes that this ring traps ice cutting and thus adds to the risk of getting the reamer stuck.
Weather today: overcast with light snow. Temperatures -10°C during night and day and decreasing to -15°C during the evening. Wind increasing from 5 kn in the morning to 15 kn and turning clockwise from SW to N during the day.
FL, Dorthe Dahl-Jensen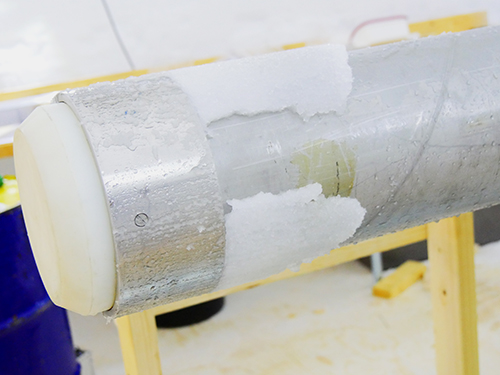 Stuck ice cuttings above the lower ring of the 251 mm reamer Fredag den 29. juli 2016.