July 30, 2016
A new snow height sampling method

Snow height measurements by sledge.

The bamboo forest for snow height measurements gives sore backs. Diana, Mari and Emilie has invented an alternative way of measuring the snow height comfortably laying in a sledge. They claim it is 4 times faster too..
Story continued from yesterday: knitted hairbands for the 1960 gals look.
What we have done today:
Camera image of borehole
Drilled ice chips up bottom of borehole
Resampled snow surface profile in the clean snow area
Built carpenters sledge for overwintering
Drone missions close to EGRIP
Move logging equipment down into the science trench
Removed cover over the Højer / Kerim / Naoko / Fumio pit maze
Saturday night
Ad. 1: Camera images of the borehole revealed that the glycol had expanded the borehole significantly around the position of the stuck reamer. It is thus not possible in the next run to get the skates to hold in the wall. The casing mission was postponed for next year where we will bring a super size skate section and extension rods with us. This leaves us much needed additional days to furbish the drill trench with the deep drilling equipment.
Ad. 2: The 4 m of ice cuttings that were dropped to the bottom of the borehole during the reaming were picked up with the HT drill. Reaching bedrock a 11 cm ice core was drilled. Drill and logging depth: (1 run , 11 cm )
Weather today: broken high overcast. Temperatures -23°C during night and evening increasing to -14°C during the day. Wind 10 kn from W all day.
FL, Dorthe Dahl-Jensen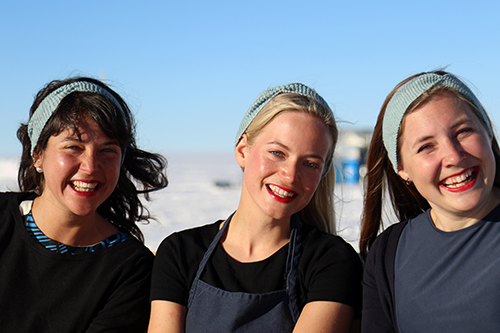 Gals from the 1960's.