May 7, 2022
Finally, put in at EGRIP

The put-in crew before take-off in Kangerlussuaq.

With a twelve-day delay, the put-in crew of EGRIP finally arrived in cold windy and clear weather. We are now nine people at EGRIP: Anna-Maria, Thomas, Bo, Chris, Sverrir, Frederik, Sepp, Basile and J.P.
We arrived at Noon and quickly gained access to the dome. Everything was found in good order. Temperature was -20°C in kitchen and close to 0°C in the cupola. In camp, some markers are missing, but we feel confident that we can find the missing markers. Before landing, we were prepared that our garages and other camp structures were more or less buried, and we planned for rapid excavation of entrances to garages to start generators and heavy vehicles. To our dismay it turned out, that the garages were covered with very dense snow, and it took almost 12 hours to gain access to and start up our 35 kW generator in one garage. We had power at 23.30 and we had supper at 24.00. It has been a cold day for every one.
What we did today:
Opened main dome.
Excavated entrance to Carpenters garage 5 m down. We had to use chainsaws to gain access.
35kW generator is now running and supplying camp.
Made new outhouse.
Ad.1: The carpenters garage looks intact; but several metal rods in the frame have been bent due to snow pressure.
Weather today: Clear blue skies. Temp. -35°C to -25°C. Wind: 11 kt to 16 kt from WSW. Visibility: Unrestricted. Some drifting snow along surface.
FL, J.P. Steffensen

Just arrived at EGRIP.

The lonely dome at arrival.
After hours of digging, we got access to our 35kW generator at 22.00 hours.
---
May 7, 2022
Put-in team finally arrived to EGRIP camp
Put-in team just arrived at EGRIP camp.

Today the put-in team finally made it to EastGRIP camp after being delayed for 12 days in Kangerlussuaq.
The team left Kangerlussuaq this morning at 9:30 local time and arrived to camp at 12:08 local time.
The 109th took off in the first try at 12:40 local time, assisted by Jet Assisted Take Off (JATO) rockets, using around half of the skiway.
The team were inside the dome and ready for start digging out the camp before the plane took off.
At 19:00 local time the field leader JP called with an update. The snow blower, the webasto and two skidoo got out of the white garage. All the luggage are in the dome.
The team have already started digging out the carpenter garage. The snow around the garage is very hard and has to be cut away with a chainsaw. The team hope to get into the garage today, but starting the first Pistenbully will wait for tomorrow.
FOMs Jesper, Marie and Iben.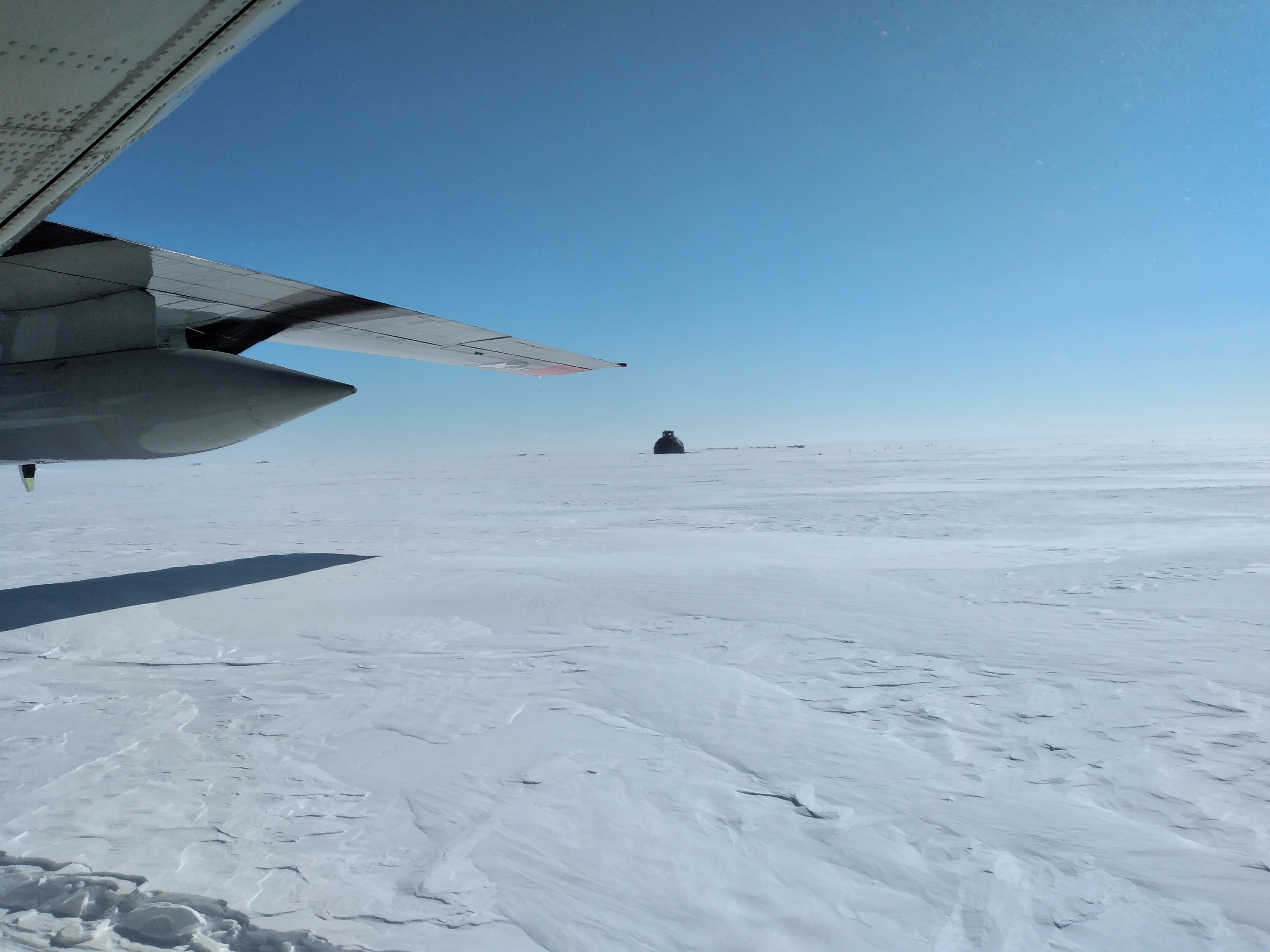 View over camp seen from behind the Hercules plane at the skiway.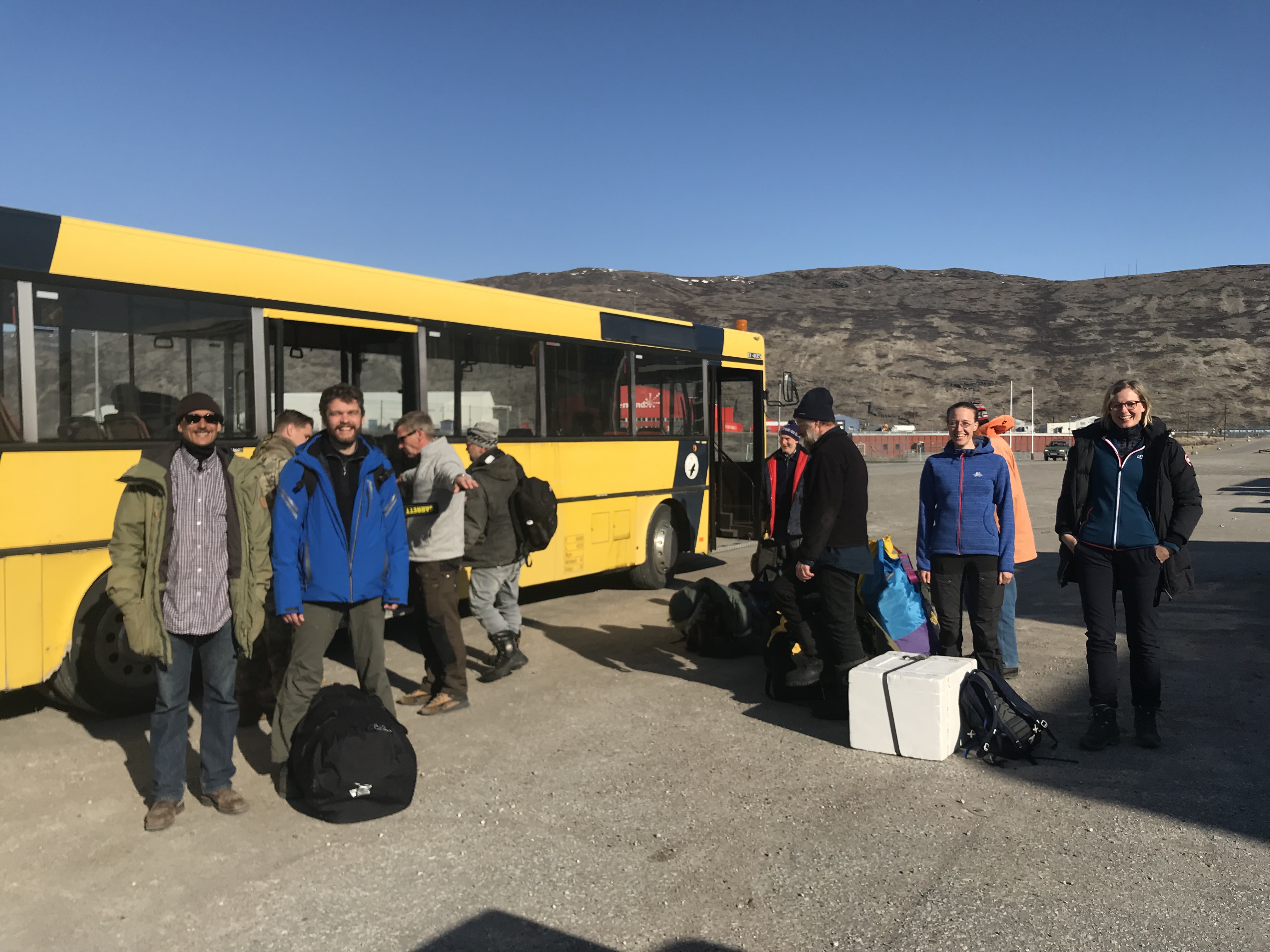 Put-in picked up by the bus before leaving Kagerlussuaq.