June 10, 2022
We celebrated yet another birthday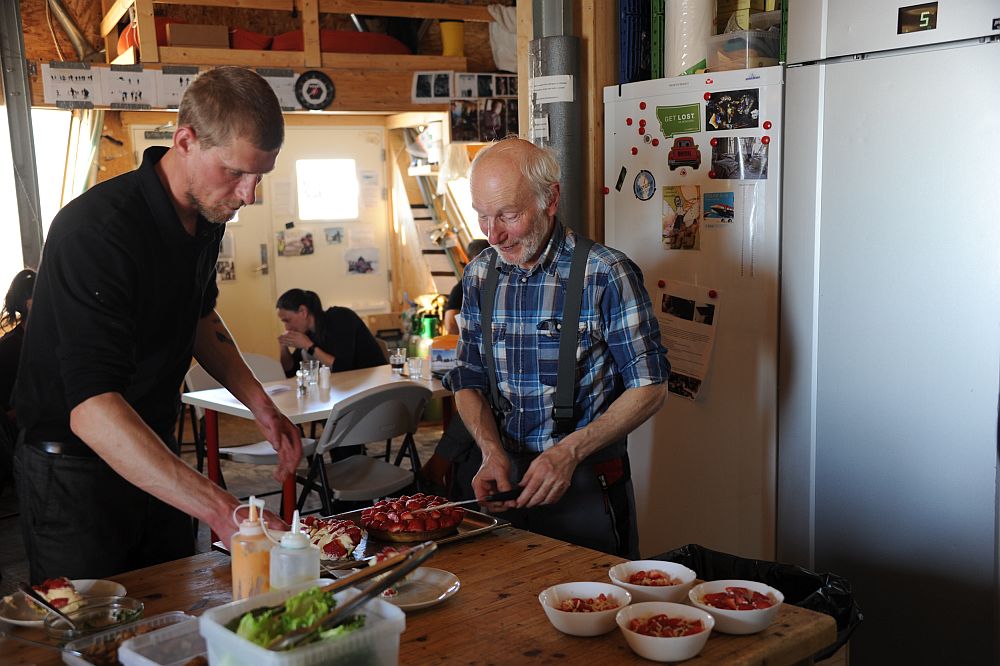 Kevin presents birthday cakes to Sepp.

Our good colleague Sepp from AWI and Copenhagen had his birthday today and we celebrated it the usual way, except his choice of instruments were special: Shovel, hammer and chainsaw. These tools have been his main ones as he has spent most of his time digging and cutting and hammering ice during the time of excavation of camp. Sepp is by far the person in camp with the most sense of snow. The Polar 5 radar flights are going well, and one of the pictures shows beautiful folded structures deep in the ice. An aerial photo of camp as seen from Polar 5 is also included. This afternoon, the mechanic's garage was finally installed, and this concludes the excavation and raising of all important camp structures after a three year long COVID hiatus. Now, we turn our attention to the underground trenches.
What we did today:
Two successful drone flights. Sampling went fine.
One successful 4.5 hour radar mission with Polar 5. Data look good.
Megatrench pit studies close to end.
Mechanic's garage replaced and being outfitted.
Working on the EGRIP IT network.
Excavation of new ramp to drill trench.
Work of restoring drill trench.
Measurement program of trench deformation completed.
Ad.6: Our big snowblower has a hard time cutting into the old inclined tunnel. Four times, the outer cutting wheel broke and had to be welded.
This afternoon, the snowblower broke through to the bottom of the tunnel.
Ad.7: All tables and floor has been removed between winch and drillers cabin. Driller's cabin has been freed from the icy grip of the deforming trench. Tower inclination has been measured to two degrees off vertical.
Main drill tower and winch frame appears intact.
Weather today: Fine all day. Temp. -20°C to -13°C. Wind: 6-10 kt from SW. QNH 1010 hPa. Visibility: Unrestricted.
FL, J.P. Steffensen

An aerial photograph of EGRIP taken from Polar 5.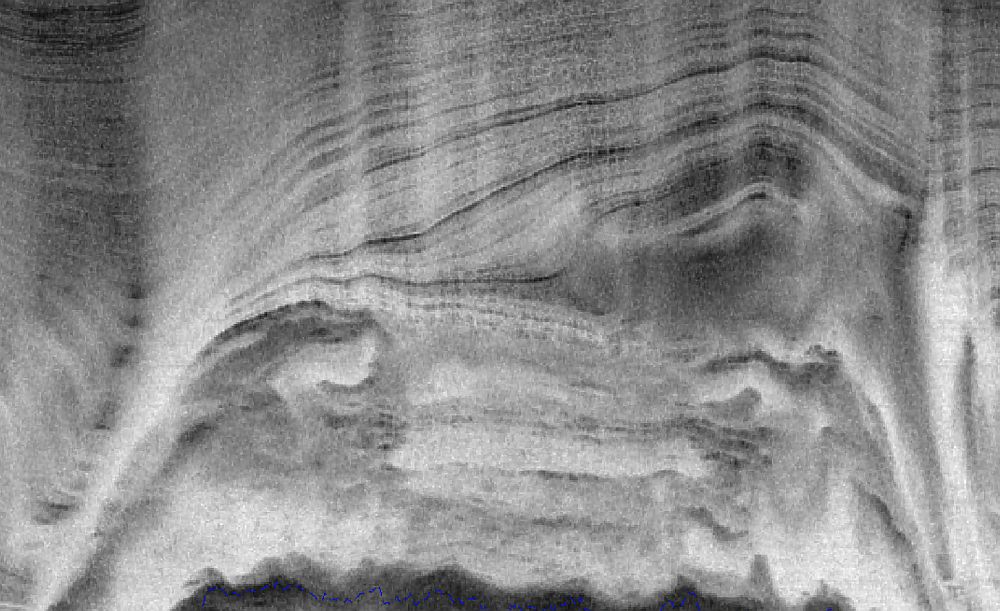 Ice radar image from the Polar 5 survey. The stripes are layers in the ice with the same age. Close to the base (black), a lot of folded layers are seen. This is a feature of the ice stream.