June 15, 2022
A nice surprise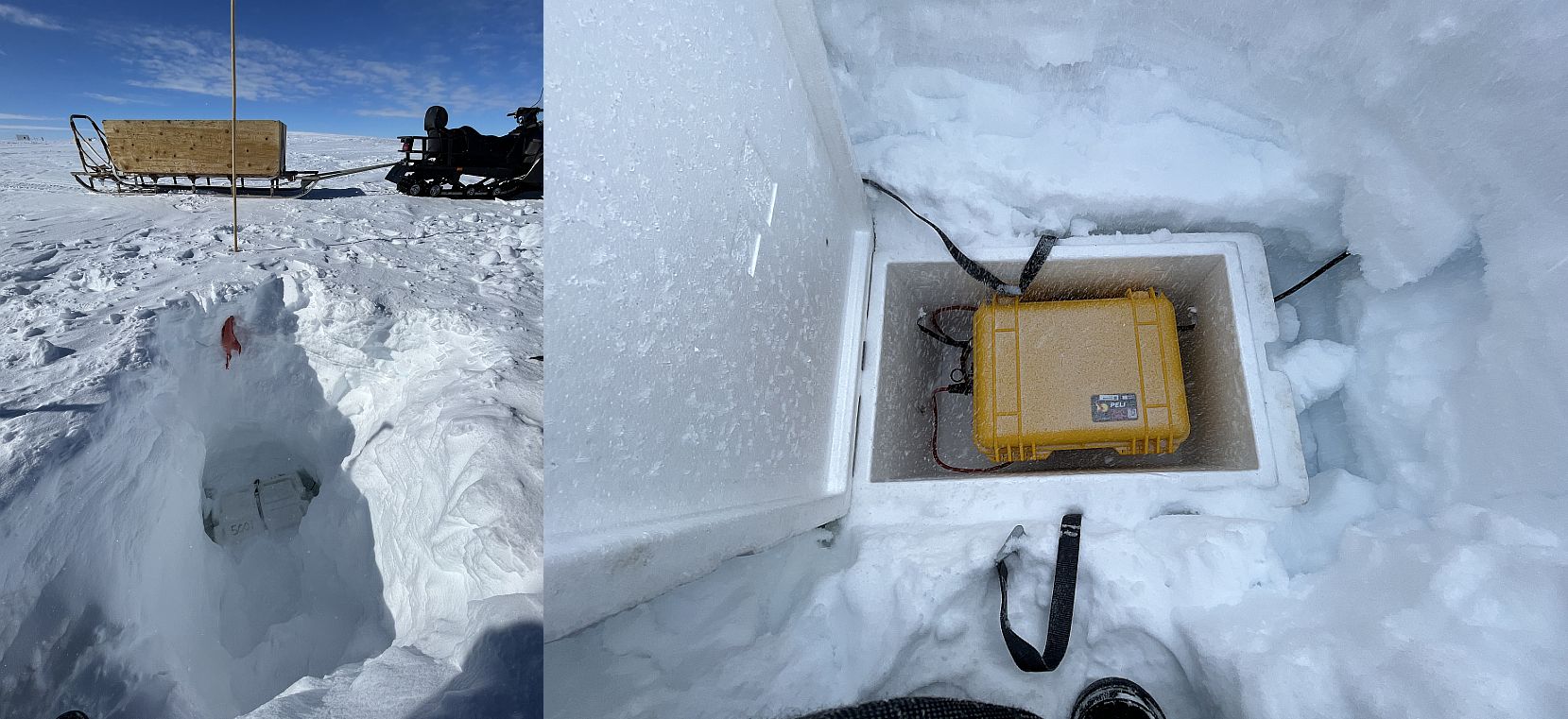 Left: View into 2m deep pit of buried ApRES, Rigth: ApRES set-up in used ice core box (battery underneath yellow ApRES box).

Today we had a successful fuel-flight to camp with Skier 31 delivering more than 11600 liters to our fueltanks here at EGRIP. We hope for even more fuel tomorrow when two more flights are scheduled, hopefully making EGRIP a busy airport here on the Greenland ice sheet. Our skiway was groomed again today to facilitate tomorrows operations:
And then we got a very nice surprise – some of the science equipment meant for collecting data during the winter 2019/20 had kept collecting data every day for almost 3 years. This is some amazing battery power, as there has been no external power source for the instruments during our covid-related absence from the camp. Ole from AWI has written the following report on this amazing accomplishment:
"In 2019, we installed two autonomous phase-sensitive Radar (ApRES) with the aim to derive firn densification, vertical strain and basal melting.
One of the ApRES was located in the science trench while the other was buried in the firn behind the white garage. The operating period with daily measurements was originally planned until 2020, but the devices could still be completely recovered. It turned out that both ApRES recorded continuous time series over the entire period of almost 3 years."
Otherwise preparations for upcoming scientific activities are ongoing at pace and 3 drone flights were performed. Work is also ongoing in the drill trench and on the snow roof for the new ramp to the trench.
What we did today:
Skier 31 delivered 11609 liters of much needed fuel for camp, as well as a few cargo items.
Grooming of the skiway during the evening, as well as skiway flag maintenance.
Unpacking, assembly and recovery of various science equipment.
Building retro cargo pallet for tomorrows first skier.
Blowing of snow on big green balloon in new ramp to drill trench.
Work on restoring drill trench.
Shooting exercise for rifle responsible camp members and scientists with projects away from camp.
3 drone flights.
Weather today: Mainly sunny conditions. Temp. -16°C to -9°C. Wind: 4-17 kt from S to SSW. QNH 1005 hPa. Visibility: Unrestricted.
FL, Bo M. Vinther