June 18+19, 2022
A team effort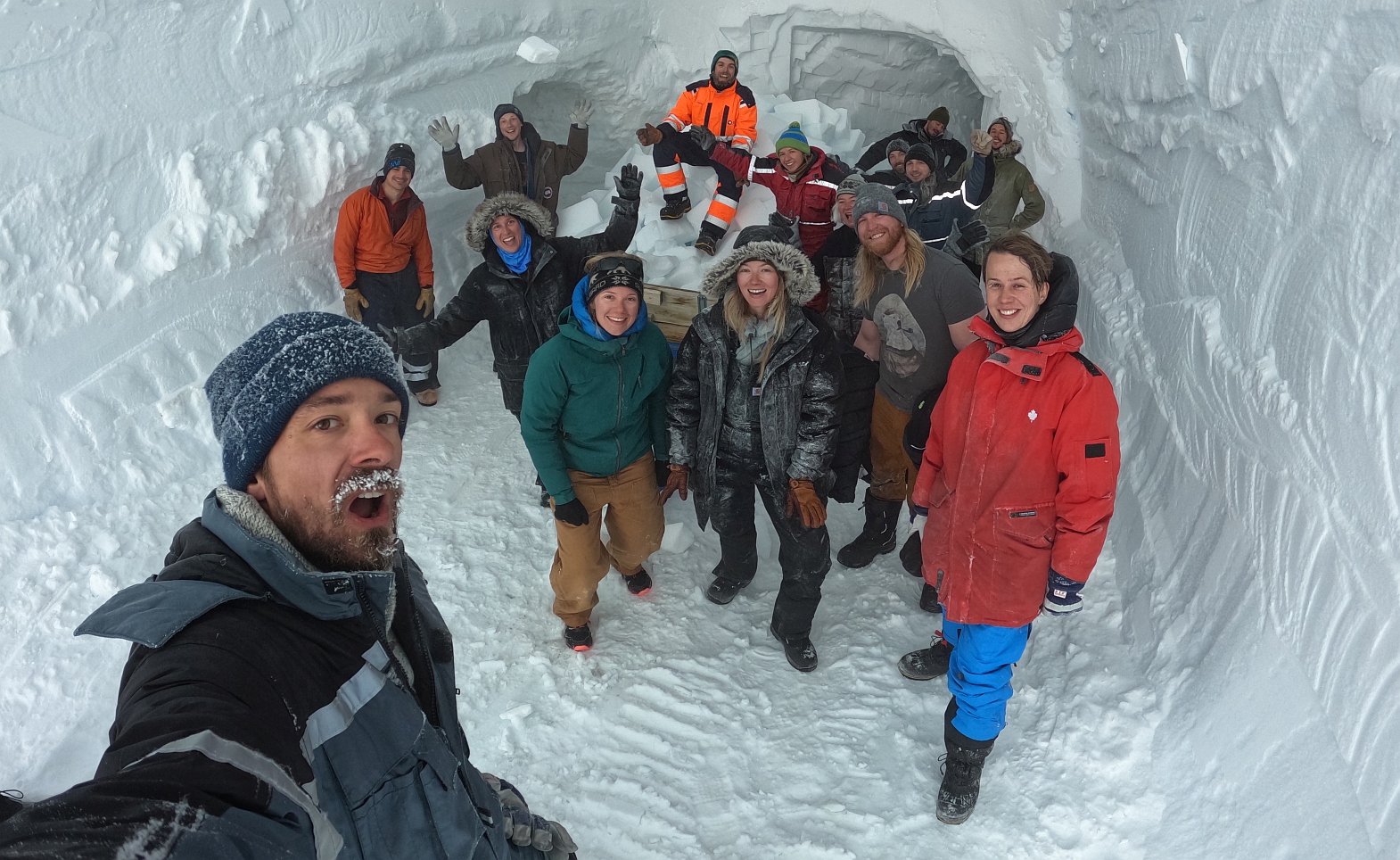 The happy drillers had a lot of happy helpers for the trench excavation work during the weekend.

The excavation of the drill trench is truly an enormous task. The ceiling has come down a few meters in or snow caves during the almost 3 years that the camp was abandoned due to covid hindering operations.
Hence the drillers are continuing cutting snow blocks and many camp members are helping out whenever they have an available hour – a true team effort!
On the surface further testing and troubleshooting of the EGRIP radar system as well as the Greenland Exploration Rover also took place in camp. The first stationary test acquisitions were also made with the EGRIP radar system. Furthermore, ApRES missions SE of camp as well as test next to camp were carried out and the drone made an impressive 4 flights on Saturday, while poor weather kept it on the ground Sunday, but facilitated some snow sampling.
Saturday evening Dorthe, Daniela, Henrik and Michael made us a 3-course dinner: Starter: Toasted bread with a spread of goat cheese and pesto, followed by a main course of curry chicken and salat with a lovely dressing and finally brownie with vanilla ice cream and raspberry puree for dessert. Sunday started with brunch prepared by our chef Jeppe.
What we did this weekend:
Excavation of drill trench by all available hands in camp.
Extracting snow-blocks by Flexmobile-driven sledge up the new ramp.
Setup of AWI shallow coring system just south of camp.
ApRES SE of camp as well as tests next to camp.
Troubleshooting and first test acquisition with the EGRIP radar system.
Test and troubleshooting of the Greenland Exploration Rover.
4 drone flights and snow sampling.
Weather during the weekend: Variable conditions Saturday turning windy and snowy during the night and remaining poor Sunday. Temp. -15°C to -6°C. Wind: 0-17 kt from SE turning N after midnight. QNH 1007 hPa. Visibility: Variable in the morning, mostly poor after midnight.
FL, Bo M. Vinther