July 8, 2022
Connecting drill to the drill cable
Romain, James and Julien working on the anti-torque section of the drill that is now connected to the cable (in the right hand side).

Today the drillers made the termination of the drill cable that connects to the anti-torque section of the drill (the top of the drill). Also, a stress test was made, testing if the termination is strong enough to withstand the hard pulling of the cable needed to break the ice core in the borehole. The drone team did the last flight today, as the drone unfortunately crashed this morning. Possibly, the accident happened because a low cloud came in and caused a vital instrument to freeze.
Somehow, the emergency landing failed and the drone crashed. However, with 105 successful flights the drone and the drone team have obtained a unique dataset that will help us to understand he interaction of water between clouds, gas phase and the firn/ice sheet. It is going to be very interesting to see the outcome of the analyses of those flights. A first test of the Mills Cross radar was made today and the results are promising.
What we did today:
Made the cable termination and stress test.
Continued getting the science trench ready.
Packed down the German shallow drilling site.
Made first measurements with the Mills Cross radar attached to the PistenBully.
With 105 successful flights the drone program is ending today.
Repaired the Swiss saw that was damaged by too many snow blocks falling on top of it.
Weather today: It was snowing the entire night and during the day it was mostly overcast. A couple of hours of sunshine for dinner and volleyball and then back to overcast. Temp. -13°C to -8°C. Wind: 4-14 kt mostly from NW.
FL, Anders Svensson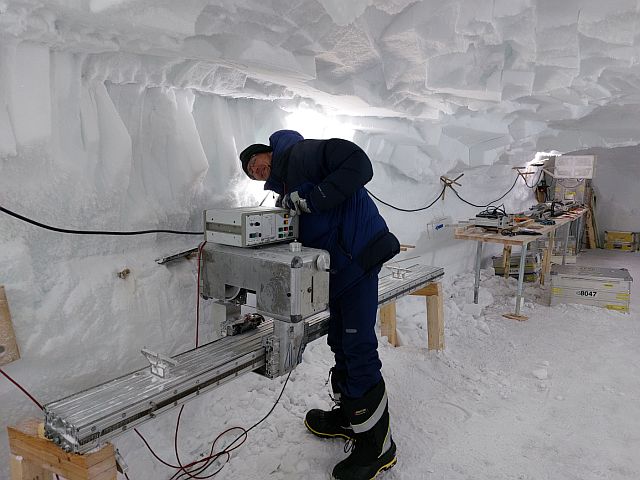 Claus is repairing the 'Swiss saw' in the science trench that is used to split the core into three sections. Without this saw being functional not much ice core processing can be done.