July 9+10, 2022
'Logging the borehole
The Mills Cross radar behind the Pistenbully returning from an 8h measurements campaign crossing the shear margin SE of camp. The 'mountains' in the background are the remains of the hills were sledges were stored since 2019.

Saturday, Dorthe logged the borehole with the 'old' logger. Within 14 hours the logger was slowly lowered into the borehole logging temperature, pressure, borehole diameter and inclination. Because the borehole has been left untouched for three years, its temperature profile is in equilibrium with the ice. The drill liquid was detected at 48m depth and the borehole was found intact with no noticeable changes in the measured parameters compared to previous years. The temperature profile shows that the ice sheet has preserved warmer temperatures of the climatic optimum in the early Holocene and in the middle of the ice sheet the cold ice of the last ice age gives rise to the lowest temperatures. The deepest part of the ice sheet is heated by the geothermal heat flux from below. The coldest temperature in the borehole is -30.5°C and the temperature at the bottom of the borehole at 2116 m depth (below floor in drill trench) is -22.4°C. Saturday, the Mills Cross radar went on a 6h survey to map large folds in the deeper part of the ice sheet beyond the shear zone SE of camp. Those folds are large scale features that have developed in some locations of the ice sheet outside the ice stream. Saturday night cooks Aslak, Michael, Henrik and Johannes prepared some good filling Finnish and German style soups with garlic focaccia and baked apples with homemade vanilla ice cream for dessert. Mums. After that the party lasted until the Sun was high in the sky.
What we did Saturday + Sunday:
Saturday: Logged the borehole.
Sunday: Prepared for filtering borehole.
Sunday: Drilled test cores in the roof of trenches to earn about densification.
Saturday: Made Mills Cross radar profile over large ice folds SW of camp.
Sunday: Maintained skiway after the last days snowfall.
Cleaning and oiling kitchen table.
Weather Saturday and Sunday: It was snowing much of Saturday and Saturday night. On Sunday mostly thin high clouds and a few showers passing by. Temp. -13°C to -7°C. Wind: 7-13 kt from NW Saturday and from W Sunday.
FL, Anders Svensson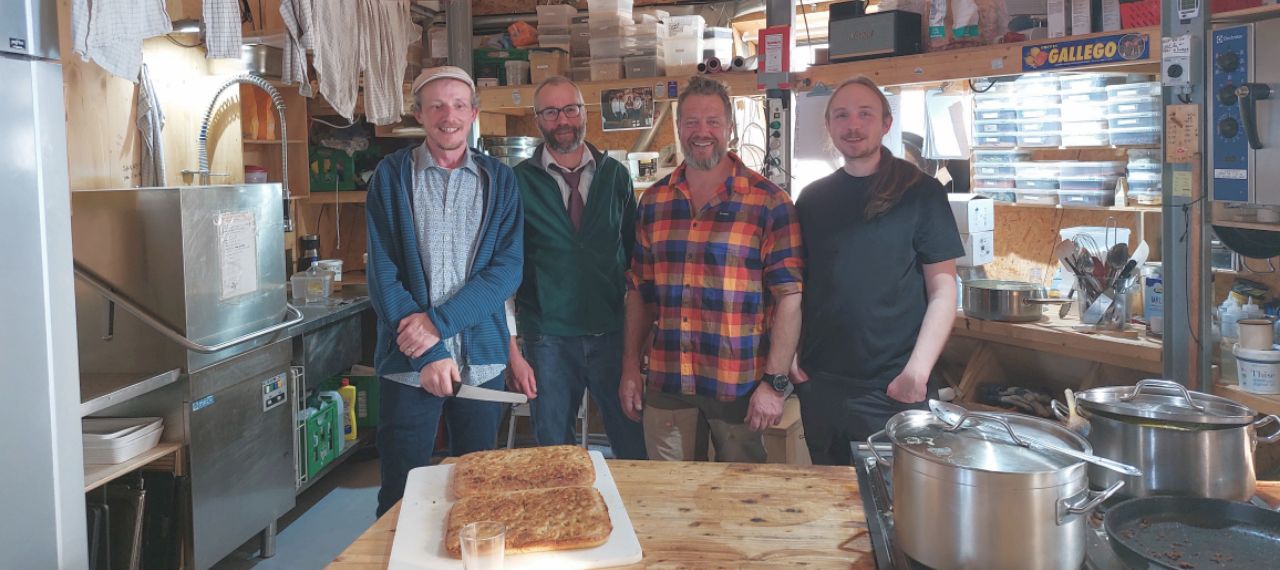 Saturday night cooks Aslak, Johannes, Henrik and Michael.