July 20, 2022
A busy day in the airport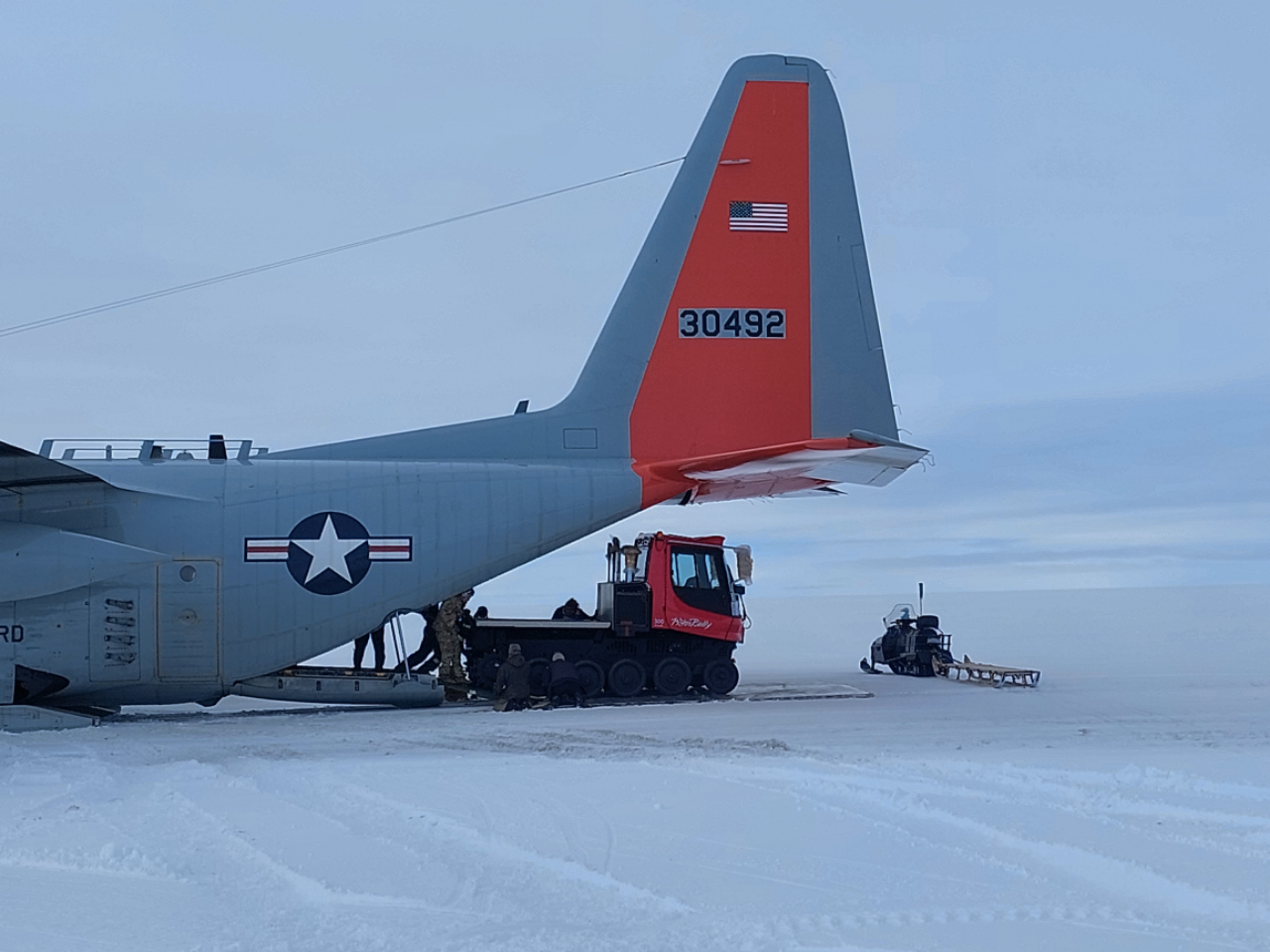 The arrival of the new Pistenbully with the shovel, the belts and the cabin dismounted.

Finally, the weather improved with cold night temperatures and reduced cloud cover, so today we had two flight missions. The first Skier arrived just after lunch and the second arrived at 5pm. The planes brought in parts for a new Pistenbully, the Pistenbully itself, frozen and fresh food, fuel, cargo and 12 passengers. We shipped out all of the ice cores from the TUNU ice-core drilling project that were stored in camp over the last month. We also said goodbye to 19 of our colleagues from over the last weeks. At the end of the day, the camp population is 21. The Pistenbully was delivered without the belts, shovel or cabin mounted; otherwise, it would not fit into the plane. It will be a task for the coming days to assemble the new Pistenbully, whereby we will have three Pistenbullies in camp. During the flights and crew exchange, the drilling was on hold. Seen from outside the camp is very much the same today as it was yesterday, but from inside it is a big change when most of the personnel is exchanged. Thank you to all departing personnel for all of your dedication and good mood over the last weeks and months.
It is great that the camp is now fully functional and that the drilling is performing so well after 3 years of no activity, except that camp has been sinking into the ice sheet. Welcome to all arriving personnel!
What we did today:
Received Skier 31 and Skier 32 with Pistenbully, passengers, food, cargo and fuel.
One drill run today. Logger's depth at 7 pm: 2208.29 m. Logged core: 3.57 m.
No processing in Science trench. Last bag packed: 3865. Production: 0 m.
Packed and strapped 3x heavy US ice core pallets.
Moved arriving pallets into camp and distributed food in freezer and freshy shack.
Weather today: Fortunately, it was good weather for flights all day. Mostly, there were clouds, but no overcast and it was cooler than the previous days. Temperatures -13.8 to -4.9°C. Wind: 0-10 kt from W and WNW.
FL, Anders Svensson