July 26, 2022
Drones at EGRIP
Film crews flying drones.

We have had several drones visiting us these days together with the media teams. They are only operated near the surface but there has been a constant buzzing from them… On the picture – can you spot the second drone?. We have also had Albert from Kässbohrer here the last days to assemble the new PiatenBully with a wider cabin. Albert spent the last two nights sleeping in the fancy bed in the PistenBully to test is and troubleshot the facility. He was very satisfied. So thumbs up to the new PistenBully Polar 300.
What we did today:
Four drill runs from Monday 7 pm to Sunday 7 pm. Logger's depth at 7 pm: 2267.25 m. Logged core: 13.70 m.
Processing in science trench. Last bag packed: 3910. Production: 1.65 m.
Received Skier 22.
Filming and interviewing in camp.
Goodbye to Albert, Niels, Antje, Phillip, Lukas, Rasmus, Hjalte, Jakob and Grant, hello to Sepp, Sonja, Florian, Dave, Jeff, Niels and Lukasz.
23 in camp
Weather today: Morning fog clearing to broken overcast most of the day, with fog coming in again at 22:00L. Wind from E turning to S between 0 to 10 kn. Temperatures -19 to -3°C
FL, Dorthe Dahl-Jensen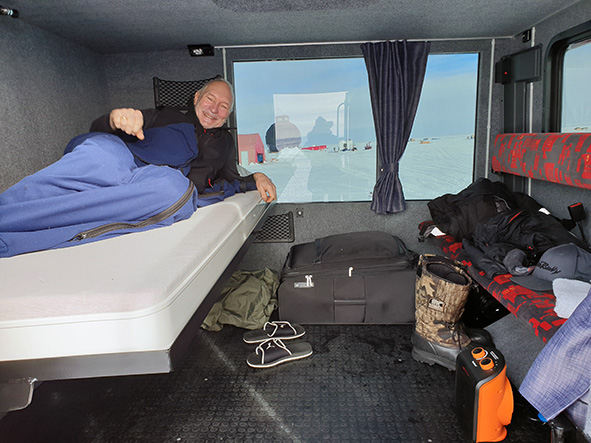 Albert resting in the bed in the new PistenBully cabin.